So you may have thought I fell of the face of the planet again. Actually, I didn't, but I was very busy with the underbelly of real life that blogging friends don't really want/need to know about. But, I'll fill you in anyway to explain my absence.
1. I got sick. There's been all sorts of crud going around at work, so I'm considering myself fortunate that I only caught one bug. It did force me to miss out on a girls' weekend with my Mastermind girls. But, since I was puking, it was probably better they just went without me.
2. My parents got sick. I think they had influenza, but I spent some time out there trying to keep their dog exercised and make sure they weren't dying.
3. My dad had a heart attack. He's only 59. He's in pretty good shape for a dude his age, and he and my mom eat pretty healthy, so it was definitely not expected. They wanted to med flight him from here to a bigger hospital but the snow made that a no go, so he had to take a risky clot buster in the ER and then take an ambulance ride in a snowstorm, which thankfully worked with no side effects, and then spend a week or so in the hospital. He had quadruple bypass but is home now and resting as much as he rests.
4. Work got crazy. I've lost several nurses and CNAs in the last month, and a bunch of the high school CNAs are asking for reduced hours, which is making scheduling a nightmare. We're due for the State's yearly inspection any day now, and I feel like there's not enough hours in the day. Which has of course kicked my anxiety and stress back up. I'm trying to eat better and take care of myself but sometimes my brain just won't shut down.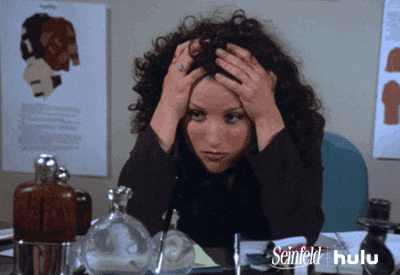 Constant resting work face.
5. So I did what any sane stressed person would do. I signed up for the nursing assistant program. It only takes a little over a month, and it'll be after work. I'm sure my body will think I'm nuts by week two, but it will come in handy with my job and if I decide to go on to anything further in healthcare- med tech or nursing, I need to have taken the nursing assistant class. While I don't have to be a CNA to be a HUC (which is what I am now- Health Unit Clerk) there's times it would be nice if I could help with residents more. April is as good as month as any, and I'm already trying to think of a fun reward for me after it's all done. My dad and I had planned a trip to Michigan's Upper Peninsula to watch the Copper Dog 150 dog sled race, but his heart attack happened the week before so that put the cabosh on that plan.
6. Goals are going okay. February is always a hard month, but I'm already getting some stuff knocked out this month. I played in my fabric stash this weekend and started some fun, new projects, and enjoyed just sitting among all my fabric and mixing prints and designs.