Guess what! I'm linking up with Charm About You's "Fugly Fabric Party", and giving away some fabric.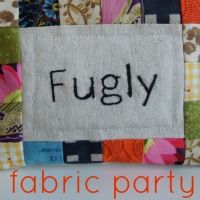 The goal of the party is to help people get rid of that fabric they just don't get warm fuzzies over anymore. I'm giving away a one yard piece of fish fabric I got on Ebay a few years ago. It's really cute fabric, but the background is so light that I never quite know how to incorporate it into things. There's also four fat quarters I'm just not loving. There's a blue piece with blue whales, a tan piece with little dogs and blocks on it, a green piece with clovers, and some psychedelic swirls in purples, blues, and greens.
Fugly Fabric Giveaway!
How do you enter to get all this fabulous fabric for free? Fill out the Rafflecopter Giveawy form below! Leaving a comment is mandatory to enter, but you can get bonus entries by following on Bloglovin', Twitter, or Tweeting about it. I will ship worldwide, so feel free to enter even if you aren't in the USA.
a Rafflecopter giveaway